Canines for K-9: Has Dentistry Gone to the Dogs?
From time to time at Corr Dental Designs we have the opportunity to work on some very unique cases. Recently, we received such a case. The Merced County Sheriff's Department sent one of their officers to the University of California at Davis to have four restorations prepared and restored. This particular officer, however, was not your average patient…he was actually of the four-legged variety, a K-9 Officer by the name of Rocky. It seems that Rocky had broken off the tips of those long slender canines so short that they no longer served their purpose of functioning as canine teeth do. Therefore, the UC Davis Department of Dentistry and Oral Surgery Service Veterinary Medical Teaching Hospital was called into action to prep these four deficient teeth. Dr. Sophie Doering and her team took on the task.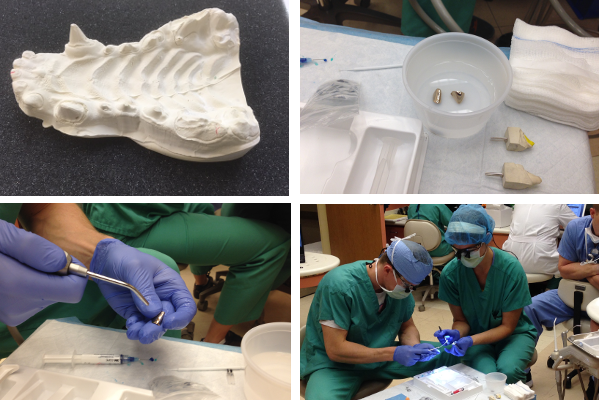 Any time we receive a case of this nature, it is a bit intriguing to us all at the dental laboratory. Obviously, due to the elongated dimensions of the maxillary and mandibular arches, traditional mounting of the stone casts onto one of our standard articulators is out the window. Dies were poured and trimmed with die spacer applied in the usual fashion. The case was carefully waxed to full contour, sprued, invested, burnt out, and cast in a gold alloy as requested on the prescription. The case was delivered and inserted with the patient under full sedation. We asked the University to kindly take some photographs to share. Rocky, I was told, was a bit grumpy post-op, so we were unable to acquire any "glamour shots", but we do hope you will enjoy the photos we have included. It is my understanding that no adjustments were necessary, so chair time was minimal or as minimal as it gets with a sedated K-9.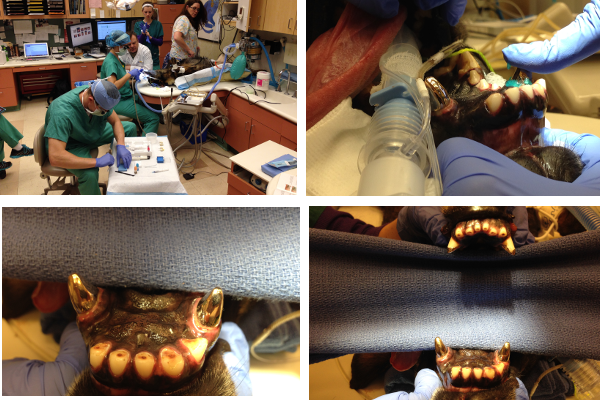 As a Merced County Officer, Rocky enjoys time in the wide open spaces, but with his new bling, he will now fit right in on any urban beat!
Next time you pass through Merced, should you happen to spy a handsome six and a half-year-old German Shepard K-9 Officer with a little extra glimmer to his smile, chances are you've met Rocky. As friendly as Rocky may be, it is my suggestion to obey the law. Rocky is now fully equipped to take a bite out of crime and that could be "ruff" on anyone foolish enough to try and dog him. Forgive me, I couldn't resist….
Kudos to Corr Dental Design along with Dr. Doering and the professionals and students of UC Davis Veterinary Medical Teaching Hospital for a job well done!
If you have questions about my article or if you would like to send a case, please contact the Pacific Aesthetic Laboratory Group at www.pacificaestheticdentalstudio.com, Gary Vaughn, CDT, CTO (916) 786-6740, or via email gvaughn@thePAC.org. Ten minutes of case planning on the phone can save hours down the restorative road.